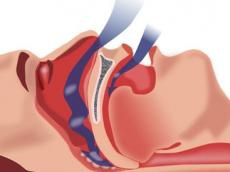 People who snore are at higher risk for cardiovascular disease than smokers, the overweight, or people with high cholesterol, according to a study conducted by researchers from Henry Ford Hospital in Detroit and presented at the 2013 Combined Sections Meeting of the Triological Society in Scottsdale, Ariz. The study has been submitted for publication to the journal The Laryngoscope.
"Snoring is more than a bedtime annoyance and it shouldn't be ignored," lead author Robert Deeb said. "Patients need to seek treatment in the same way they would if they had sleep apnea, high blood pressure or other risk factors for cardiovascular disease."
Scientists have known for some time that the sleep disorder known as a obstructive sleep apnea - in which a collapse of the airway in the throat causes snoring and cessation of breathing during sleep - significantly increases a person's risk of cardiovascular disease and other serious health problems. Yet until now, there has been no evidence suggesting that even in the absence of obstructive sleep apnea, snoring itself might be a risk factor.
The researchers reviewed medical data on 54 patients between the ages of 18 and 50 who did not have sleep apnea and who had participated in a diagnostic sleep study at the hospital between December 2006 in January 2012. All the participants had completed a survey about their snoring habits and had undergone a test known as a carotid artery duplex ultrasound.
This procedure measures the thickness of that critical artery's two inner layers, known as "intima-media thickness." Thickness of these two layers is considered an early sign of carotid artery disease, and can be used to detect and track the progression of atherosclerosis, or hardening of the arteries. Atherosclerosis can deprive the brain of oxygenated blood, leading to stroke.
The researchers found that people who snored had a significantly higher carotid intima-media thickness than people who did not snore. No such difference was found between smokers and non-smokers or people who did and did not suffer from diabetes, high blood pressure or high cholesterol.
The damage to the carotid artery may come from trauma and inflammation caused by the vibration of chronic snoring, the researchers speculated.
"Our study adds to the growing body of evidence suggesting that isolated snoring may not be as benign as first suspected," Deeb said. "So instead of kicking your snoring bed partner out of the room or spending sleepless nights elbowing him or her, seek out medical treatment for the snorer."
A 2012 study published in October 2012 in the American Journal of Obstetrics found that women who began snoring during pregnancy were significantly more likely to develop hypertension.
The Ford researchers are now planning to conduct a long-term study to see if people who snore suffer from a higher rate of cardiovascular events.
"Snoring is generally regarded as a cosmetic issue by health insurance, requiring significant out-of-pocket expenses by patients," Deeb said. "We're hoping to change that thinking so patients can get the early treatment they need, before more serious health issues arise."
/AzerTAc/