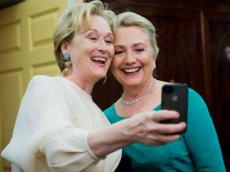 4 in 10 Americans want Meryl Streep to play Clinton in movie: Poll. A majority of Americans want to see Meryl Streep portraying Hillary Clinton in a movie, a poll has said.
According to a CBS News/Vanity Fair poll, about four in 10 Americans think Streep should play the outgoing-Secretary of State in a Clinton biopic, followed by 18 percent for Glenn Close, 8 percent for Susan Sarandon, seven percent for Helen Mirren.
The poll, covering 1,179 adults, showed that six percent of Americans voted for Kirsten Dunst and one percent for Connie Britton, and the remainder picked other choices, Politico reports.
According to the report Streep also got endorsement from former President Bill Clinton, who said that the actress should play his wife in a movie.
There has been widespread speculation about when a Clinton flick would get made, a script dubbed 'Rodham' about a 20-something Clinton struggling to decide between a Washington career and boyfriend Bill Clinton is making its ways in Tinsletown circles, the report said.
Only 17 percent of Americans correctly named "On the Waterfront" as the movie where the famous line "I coulda been a contender" appears. The classic movie won eight Oscars in 1954 including Best Picture, Best Director (Elia Kazan), Best Screenplay (Bud Schulberg), Best Supporting Actress (Eva Marie Saint in her debut) and by the way, that famous line helped Marlon Brando to win Best Actor.




/AzerTAc/