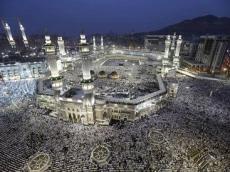 These breathtaking pictures show how millions of pilgrims are arriving in Mecca for Islam's annual haj pilgrimage which starts tomorrow, as Saudi authorities warned they will stop any disruptive protests over the conflict in Syria.
The Grand Mosque, the focal point of the Islamic faith, was already teeming with joyful pilgrims at dawn yesterday, wearing the simple white folds of cloth prescribed for haj, many of them having slept on the white marble paving outside.
Haj must be performed at least once in their lifetime by all Muslims capable of making the expensive, difficult journey, a duty that applies equally to Sunni and Shi'ite Muslims at a time of tension between Islam's main sects.