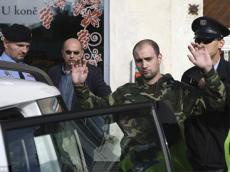 A young man wielding a plastic gun shot Czech President Vaclav Klaus in the arm today - but the plastic pellets left him totally unharmed.
Pavel Vondrous was wearing military camouflage when he approached Klaus during a ceremony to open a bridge in Chrastava, a village 60 miles north of Prague.
He opened fire on the President at close range with a handgun that is often used in a game called airsoft, similar to paintball, Nova TV said on its website.
The attacker managed to get within a metre of the leader and then walk away after the attack before he was detained by police.
The assailant told a Nova reporter the government was 'blind and deaf to the laments of the people' before he was arrested.  
'You really did not manage this well,' Nova quoted Klaus as telling his bodyguards.
Klaus, 71, whose second and final term ends next March, is a popular figure in the central European EU country.
But his sharp criticism of the euro, EU integration and efforts to halt global warming as well as his friendly stance towards Russia have won him some enemies. 
 /dailymail.co.uk/