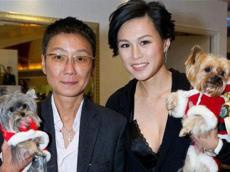 Most doting fathers dream of seeing their daughters happily married to a suitable spouse.
But Hong Kong billionaire Cecil Chao Sze-tsung has gone further than most to ensure his daughter weds someone he approves of, by offering a £40million reward to the man who can successfully woo the 33-year-old lesbian.
The property magnate announced the HK$500million reward following reports his daughter Gigi Chao, a Manchester University graduate, had tied the knot with her long-term female partner in a ceremony in France.
 The tycoon launched his controversial search for a son-in-law even though architecture graduate Ms Chao is believed to have married her girlfriend of seven years, Sean Eav, on April 4 this year.
Mr Chao - who insisted reports of his daughter's nuptials were 'false' - told the South China Morning Post: 'I don't mind whether he is rich or poor. The important thing is that he is generous and kind-hearted.'
He said: 'Gigi is a very good woman with both talents and looks. She is devoted to her parents, is generous and does volunteer work.'
Mr Chao said the £40million prize money was 'an inducement to attract someone who has the talent but not the capital to start his own business'.
The businessman insisted he would not force his daughter to marry a man against her will, but his stunt was condemned by readers who posted comments on the Hong Kong newspaper's website.
One post said it sounded as though Mr Chao was 'selling' his daughter, while another urged him to 'Get with the times'.
According to her Facebook page Gigi Chao is an executive director at Cheuk Nang, her father's Hong Kong-based property firm.
While Mr Chao's bizarre campaign to recruit a husband for his lesbian daughter would shock even the most overbearing of parents, Ms Chao has said in the past that her father took a 'hands-off approach' to raising her.
'I see him as a friend more than a father', she told HK Magazine in an interview in 2007.
/dailymail.co.uk/