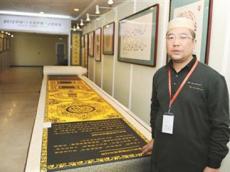 The world's largest Quran, which has been brought to Istanbul from China for the "Islamic Culture and Artwork in China" exhibition, has been attracting interest at the Ali Meiri Efendi Culture Center in the Fatih district of Istanbul. The role-shaped Quran is 208 meters long, 1.14 meters wide, and weighs 86 kilograms.
The Quran's owner is Yusuf Xujun, who is living in China's Hui autonomous region and manages a company producing products for Muslims. He said that he and his wife Selime Xujun had decided to write a large Quran using a special writing art of China, and that he had learned this art from his family.
"I created this Quran to show Chinese art to the world. Islam has been in Chinese culture for 1,000 years. We used 70 people in the writing of this Quran and finished it in two and a half years. It has been included in the cultural heritage list in China. It is 1.14 meters wide in order to symbolize the 114 'surahs' in the Quran. I wrote it on silk," Xujun said, adding that the Quran was being displayed in Istanbul for the first time outside of China.
/hurriyetdailynews.com/