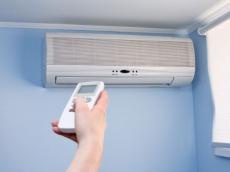 The 17th July 1902: It was another scorcher in New York. The week before, seven deaths tied to the heat had been reported. The city's public baths were jammed with people desperately trying to cool down. The newspapers, following President Theodore Roosevelt's vacation on Long Island, said he had been out horseback riding when a thunderstorm rolled in. It was so hot, he did not mind getting soaked.
What the newspapers did not report was that something had happened involving the second floor of a Brooklyn printing plant — something that changed everything.
What happened was air-conditioning. Sort of. July 17 was the date on the blueprints for newfangled equipment to temper the air.
A junior engineer from a furnace company figured out a solution so simple that it had eluded everyone from Leonardo da Vinci to the naval engineers ordered to cool the White House when President James A. Garfield was dying: controlling humidity. "If you could keep humidity at a balanced rate," said Marsha E. Ackermann, the author of "Cool Comfort: America's Romance With Air-Conditioning" (Smithsonian Books, 2002), "it would not seem so sweltering and things would not be dripping all over."
It was a world-changing innovation. "Air-conditioning, in the broad sense, had a profound effect on the way people lived and worked," said Bernard A. Nagengast, an engineering consultant who specializes in the history of air-conditioning and heating. "It allowed industry to operate in ways it couldn't operate before, in places it couldn't operate before."
It all but redefined Florida and Houston and the rest of the Sun Belt. "And Singapore, sometimes called the air-conditioned nation," said Eric B. Schultz, a former Carrier Corporation executive and author of a recently published company history.
And, Mr. Schultz said, the Internet, because air-conditioning minimized dust, making possible the so-called clean rooms for computer manufacturers and electronics companies.
In time there would be window-mounted air-conditioners to drip on people on the sidewalk below (or fall out and cause injuries). And there would be brownouts in the summer as air-conditioners put a strain on power plants. But in 1902, there was a printing plant, and a problem.
The plant, on Metropolitan Avenue in East Williamsburg, had just been completed, Mr. Nagengast said. It was built for a company that printed the humor magazine Judge, which carried fanciful illustrations. The printing company had to run each page of the magazine through the press once for each color on the page. Sometimes one color was printed one day, and another color the next.
/nytimes.com/