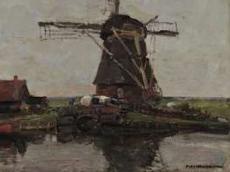 Burglars broke into Greece's biggest art museum this morning and stole two paintings and a sketch. Pablo Picasso's 1939 Woman's Head and Dutch painter Piet Mondrian's Mill were taken in the dawn raid at Athens' National Art Gallery.
They also took a sketch by Italian painter Guglielmo Caccia, donated to the gallery in 1907.
The value of the pieces have not been revealed. But the Picasso, given to the Greeks by the artist himself in 1949, is thought to be worth at least several hundred thousands pounds.
Mondrian's 1905 painting Landscape was dropped on the floor as the thieves made their getaway, police said. 
The burglars entered through a balcony door. They had intentionally set off alarms on several occasions, at 4.30am, without actually entering the building, prompting guards to disable at least one.
The burglars still triggered a sensor in the exhibition area, but a guard only got there in time to see a man running off. An official said: 'After the alarm went off the guard discovered that the two paintings were missing. Another was lying on the floor.
'It all happened in seven minutes'. Police are still investigating if any other art is missing.   
Picasso had donated the cubist female bust 'in homage to the Greek people' for their resistance to Nazi occupiers during World War II.
The National Gallery's collection also includes a Mondrian drawing entitled the Study of Flower.
In October, police in Serbia recovered two paintings by Picasso stolen in 2008 from a gallery in Switzerland and worth millions of dollars.
In September, Greece recovered a painting by Flemish master Peter Paul Rubens stolen from a museum in Belgium in 2001 and arrested two Greeks who tried to sell it to undercover police for about one million euros.
And only last week the £2.75 million René Magritte painting Olympia, which was stolen at gunpoint from a Brussels museum two years ago, was handed back.
The thieves decided to cut their losses after it failed to sell on the black market.
The two men, who were not masked, rounded up the museum staff and visitors - including a Japanese couple - and made them kneel in the courtyard.
No one was hurt and the pair left carrying the 60cm by 80cm painting and got into a car.
An alarm sounded when they smashed the glass, but by the time the police arrived, the thieves, who spoke English and French, had made their getaway.
/dailymail.co.uk/