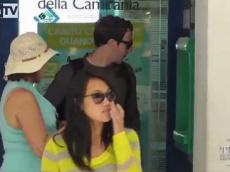 Facebook billionaire Mark Zuckerberg is enjoying a dream honeymoon with his bride.
But when it comes to his finances, Mark Zuckerberg suffered something of a nightmare yesterday.
First the Facebook founder was told he has plunged down the richest people in the world league following the social networking site's bungled stock market flotation.
And just hours later the 28-year-old was left cashless after apparently becoming bewildered by how to work an Italian ATM. After several tries, he and his new wife, Priscilla Chan, 27, were eventually forced to try their luck at another cashpoint.
Since Facebook was floated on the stock market on May 18, Zuckerberg has seen £3.2billion wiped off his personal fortune, taking it to £9.4billion.
He is behind Colombian investor Luis Carlos Sarmiento, who is the 40th richest person in the world with £9.9billion, according to Bloomberg Billionaires Index.
At one point Zuckerberg, who dropped out of Harvard to set up Facebook, was ranked the 22nd richest person, making him wealthier than investor George Soros.  
The decline in his fortune has been mirrored across the company. Facebook shares now cost less than those for the Campbell's Soup Company as problems with its stock market flotation continue.
The site was trading at £18 a share yesterday, having initially been offered at £24 – below the £20 cost of stock in Campbell's.
Facebook is also trading at almost half the £34 it takes to buy a single share in the American company which makes Tupperware.  The site became the biggest internet stock market flotation in history when it launched to huge fanfare earlier this month.
But even on the opening day underwriters Morgan Stanley had to step in to prop up the share price amid technical difficulties on the Nasdaq stock exchange. Analysts have also warned that the shares could fall even further.
/dailymail.co.uk/