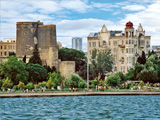 The great number of artists living and working in Austria and their enormous artistic potential represent the basis for the exhibition "In Between. Austria Contemporary", which will be held at the Azerbaijan National Museum of Art in Baku from September 29 until October 14, 2011.
It is an attempt to provide an insight into the most recent generation of artists in Austria. More than 40 works created by 36 Austrian artists will be displayed at the exhibition, which presents a small part of the national collection of contemporary Austrian art.
The exhibition "In Between. Austria Contemporary" is initiated, commissioned and organised by the Austrian Federal Ministry for Education, the Arts and Culture. It presents several major themes and positions of contemporary Austrian art in loose thematic groups and different medias.
After first being shown in Israel, the exhibition went on to show in Croatia, Montenegro, Cyprus, Hungary, Turkey, China, Liechtenstein, Austria, Belgium and Lithuania.
/
APA
/