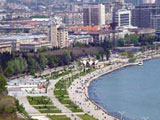 The Embassy of Greece and the Ministry of Tourism and Culture of Azerbaijan are the hosts of an exhibition of collection material related to the battle of Marathon, – a battle that took place in 490 B.C. - between Ancient Athenians and Persians and whose outcome is regarded as having changed the course of European history and the western world.
The presented material is original, from European artwork and books of 18th and 19th centuries and it is inspired by this legendary battle.
The exhibition will be hosted in Gallery 1969, U. Hacibeyli Str. 27, 1st Floor, from Monday, December, 13, 2010, till Sunday December 19, 2010, daily from 10.00 am to 18.00. Admission is free for the Azerbaijani public.
/Today.Az/