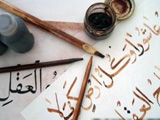 On November 5, Baku Center of Arts «New Gallery» will host an opening of calligraphy exhibition of Gulkhan Beydamirov, according to director of Center of arts Raphael Gulmammadli. It is the second personal exhibition of artist's works in Baku.
Collectors of Azerbaijan, Turkey, Germany, Holland, Austria, Korea and France have his works even up to this day. Guklhan Beydemir was taught by a world famous calligrapher Davut Bektash. Note that, an artist was engaged in the art which was forgotten in Azerbaijan - carving on a stone, and has prepared masters in this area of art.
However, object of his greatest interest were thousand-year calligraphical letters which are cut out on stones. Thus, his product "Ahmed-Mohammed" won the first prize at competition which was held in Istanbul in 2006. He was also awarded the first prize in contest of a name Hz. Movlan.
/Baku-Art.Az/