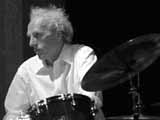 According to the Lithuanian Embassy in Baku, on May 27th an exhibition of a famous Lithuanian free - Jazz percussionist and author of many art installations, Mr. Vladimir Tarasov, was opened in the Centre of the Union of Artists of Azerbaijan. Mr. Tarasov presented to the Baku audience his video installations, all of which explore "the world of sounds".
One of the video installations that firstly catch the eye of a visitor was filmed in Azerbaijan, in Gobustan. "From the books I knew that there was a very special stone in Gobustan which was used by our ancestors to announce danger and to alarm people. I was very keen on finding this stone – and I did it even though it took me a lot of time. This stone makes incredible sounds. I am so happy I have so many friends in Baku who supported me in this long search" – says the artist.
The video exhibition was opened by Mr. Farhad Halilov, director of the Centre of the Union of Artists of Azerbaijan. Mr. Halilov congratulated the artist and expressed his wish to welcome Mr. Tarasov in Baku – the city of jazz and culture – again.
Mr. Vladimir Tarasov's talent was discovered when he was playing in Lithuania's famous jazz band Ganelin, Chekasin, Tarasov Trio in the 1970s. Today Mr. Tarasov is a well known jazz musician performing all over the world. Since the last decade he has also been very active in the field of visual arts.
The video exhibition of Vladimir Tarasov was organized by the Union of Artists of Azerbaijan with support of the Ministry of Culture and Tourism of Azerbaijan and the Embassy of Lithuania in Baku. The video material of the exhibition will later be kept in the Centre of Contemporary Art of Azerbaijan.
/Today.Az/