Baku Museum Center's Exhibition Gallery will host "BELARUS TODAY" exhibition from May 26 to June 2.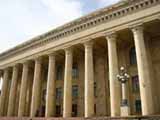 The exhibition is organized by the Belarus Embassy of in Azerbaijan and the Belarusian BelTA state news agency together with "Azerbaijan - Belarus" Society of Friendship and Cooperation.
At the photo exhibition will feature about 80 works by photographers from BelTA news agency on different themes: nature, culture, politics, science, industry, all things associated with the modern Republic of Belarus.
The opening ceremony will be attended by Director General of BelTA Dmitry Zhuk, Belarus Ambassador Ambassador to Azerbaijan Nikolai Patskevich and leadership of the Friendship Society.
/Today.Az/