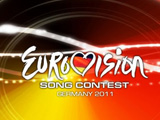 "I have listened Azerbaijan's song for this year. "Running Scared" sounds like a possible winner. The song sounds very catchy, lyrical and convincing. I wish you good performance and a breakthrough to the final. You deserve it. Be proud of your song and support your music as much as possible! I think that this year's contest will be very difficult and interesting. I wish good luck to Azerbaijan", said Slovenian representative in the 56th "Eurovision" Maja Keuc.
The Slovenian representative said to Azerbaijan's official fan-club for the contest "Ogae Azerbaijan" that she focused her attention on the preparation for the contest: "I am focused on the second semi-final. It was and it is the biggest competition of European countries in popular music. Happiness, if Slovenia was well-ranked, disappointment if we did not go to final."
Keuc said that her career has only just begun: "My actual music career has only just begun and there are so many options in front of me. Many possibilities, a few different strategies, but everything is still open. I have a CD on the way that will be released after ESC 2011. Otherwise, we will see. After all, I only have 19 years. I wish to study music and live with her until the end".
/APA/