Robbie Williams has revealed that he is "coming round to the idea" of starting a family with Ayda Field.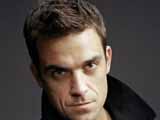 The 'Bodies' singer, who reportedly proposed to Field last month, admitted that he has finally been won round to the idea of becoming a father.
"I'm feeling good things. She keeps going on about it and really, really wants one - and I'm coming around to the idea. But it's slowly, slowly catchy monkey," he told The Sun.
The 36-year-old, who will pick up the 'Outstanding Contribution to Music' gong at the Brit Awards tomorrow, claimed that his health suffered while recording his recent album Reality Killed The Video Star.
"It sounds heavy but I was crippled with nerves over my latest album," he said.
"But I'm in really good shape both mentally and physically. Mentally, I'm doing really well. I often get sidetracked and let my thoughts take me to a place that I don't really want to go.
He added: "I've been doing an awful lot about that recently."
/Digital Spy/