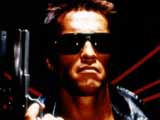 According to Deadline Hollywood, Wisher's concept manages to keep both Terminator 3: Rise Of The Machines and Terminator: Salvation in the canon (that sound you hear is a portion of fandom gnashing its teeth at the prospect) while switching the focus back to the core characters and time travel that was a prominent feature of The Terminator and T2: Judgement Day.
The ongoing story of the future of the Terminator franchise took yet another turn yesterday, albeit one that doesn't yet feature into the official plans: William Wisher, who worked on the scripts for the first two films, has crafted a treatment for a fifth movie and an outline for a sixth.
While the site isn't giving away big plot spoilers, you might want to be careful going forward: Wisher's 24-page plan for Terminator 5 takes place in a post-apocalyptic wasteland that allows Sarah Connor and Kyle Reese to have more time together thanks to a time-jumping element.
And there's even a part for Arnold Schwarzenegger in there, which apparently marks another shift in his iconic cyborg and is also found near the end of his six-page plan for the second new film, timed so that the Governator would be finished with his political career in California and ready to play it.
While there are some intriguing elements – including some fun-sounding new Terminator models, what Wisher's work essentially boils down to at this point is fan fiction. Admittedly, it's been written by one of the people responsible for bringing the story to life in the first place, but even if Sony and Lionsgate do end up buying the rights to the series from current owners Pacificor, there's no guarantee the companies would actually have him write them. Still, it's fun to speculate…
/Empire Online/