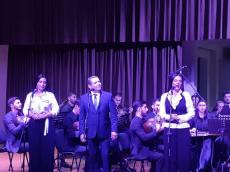 Laman Ismayilova
Azerbaijan National Conservatory has hosted a concert timed to the National Music Day.
Many public and cultural figures attended the event, including the Deputy Culture Minister, People's Artist of Azerbaijan Murad Huseynov, Azernews reports.
In his speech, the minister emphasized that National Music Day is celebrated annually in the country at a high level.
National Music Day went down in history as the birthday of Azerbaijan's outstanding composer, the founder of the Azerbaijani professional musical art Uzeyir Hajibayli (1885-1948).
The tradition of celebrating the great composer's birthday as a holiday was laid by eminent conductor Niyazi Hajibayov, who used to celebrate this day each year after Uzeyir Hajibayli's death. This tradition continues till nowadays.
Numerous cultural events, including gala concerts and festivals, are being held nationwide as part of the celebration.
Rector of the Azerbaijan National Conservatory, People's Artist of Azerbaijan Siyavush Karimi noted that Azerbaijani music sounds all over the world, captivating the hearts of listeners.
The official part was followed by a gala concert, which was received with great enthusiasm.