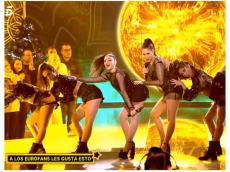 Azerbaijan's Eurovision star Samira Efendi has appeared on a Spanish TV show, Azernews reports.
Together with a Spanish TV journalist, the singer performed her Eurovision Song 2021 Mata Hari at MediaFest Night Fever show.
"Well, the reason why I went to Madrid was to participate in the MediaFest Night Fever TV show.
First, I would like to thank MediaFest Night Fever for inviting me to this show. It was a great experience for me. Cristina Porta, we started a fire! And thank you Spain for the warm welcome!" Efendi wrote on Instagram.
Samira Efendi represented Azerbaijan at Eurovision 2021 with the song Mata Hari took 20th place in the song contest. Speaking about the meaning of the song, Efendi says that it is about female power.
"It's necessary to talk to women about strong women and remind them that despite the fact that we still live in a world full of superstitions, women can do everything, and women's power cannot be compared to anything. If you are looking for inspiration now, let the stories of the strongest women in history become a source of that energy and remind you that you can do it all and achieve greater success".
The song Mata Hari features ethnic motives based on traditional Azerbaijani musical instruments such as zurna (trumpet) and naghara (drums), as well as melodies from the Azerbaijani folk dance yalli.
Besides that, for the first time in the Eurovision history, Azerbaijan uses the Azerbaijani language, which concludes: "Yalan da m?n, yanan da m?n, yaman da m?n", which means " I am the lie, the burning one, the relentless one".
The singer thrilled Eurovision fans with a stunning performance that featured a giant orb in the background.
At the end of the stage show, the orb was lifted into the air where it exploded in a rain of golden sparkles, leaving the image of Nazar, a symbol of fortune in Azerbaijan.
Designed by Rufat Ismayil, Efendi's costume was adorned with precious and semi-precious stones; it combined Azerbaijan's traditional elements but with a modern twist.
In 2022, Samira Efendi once again joined Eurovision stars as part of the 2nd Het Grote Songfestival Fest, which brought together Eurovision singers like Alexander Rybak, Neta Barzilai, Loreen, Kalush Orchestra, Sam Ryder, TIX, Duncan Laurence, Helena Paparizou, and many others.
Efendi, who represented Azerbaijan at the Eurovision Song Contest, was enthusiastically greeted in Amsterdam by the song contest participants and fans of her music.