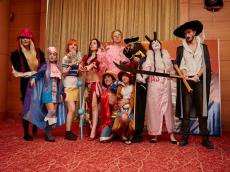 By Azernews
By Laman Ismayilova
Baku has hosted the third Cosplay Festival, where dozens of cosplayers showed their unique costumes.
The festival entitled "Pirates of the Caspian Sea" was organized by Azerbaijan Cosplay Convention (AzeCON).
The amazing costumes and colorful characters gave chance to people of all ages to immerse into the world of fantasy.
Cosplay, a Japanese term derived from the combination of the English words costume and roleplay, refers to dressing up as characters from anime, manga, video games, movies, and even books. The participants, called cosplayers, often put a lot of time and money into their outfits, with some making a living off of their modeling work as full-time professionals. 

Japan is well known for its cosplay culture that sprung up in the 1970's from the massive anime following among Japanese college students. However, this enthusiasm has spread to other countries, particularly East Asia and the US, where there are major conventions.