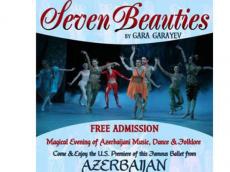 By Nigar Orujova
Azerbaijan's proclaimed ballet "Seven Beauties" will be staged for the first time in America in San Diego, California, on October 11.
"Seven Beauties" ballet by the prominent Azerbaijani composer Gara Garayev will be performed by American artists accompanied by Grossmont Symphony Orchestra led by conductor Randall Tweed.
The first night will be performed by the San Diego Ballet, co-organized by the Azerbaijani Culture and Tourism Ministry and the General Consulate in Los Angeles.
San Diego Civic Theater that is capable to host 3,000 visitors will be the place, where San Diegans will have a chance to closely get in touch with Azerbaijani culture.
"Seven Beauties" ballet was first composed by Gara Garayev in 1952. It is based on motifs of Nizami Ganjavi's "Seven Beauties" poem, written in 1197.
The ballet revolves around the story of a young prince who draws inspiration and wisdom from his seven international princesses.
The premier of the ballet in San Diego is a long-awaited event. San Diego Ballet artistic director Javier Velasco's full-length ballet is also inspired by Azerbaijani poet Nizami Ganjavi's poem.
To conduct a research into the piece, Velasco spent four days in June in the Azerbaijani city of Baku, where he pieced together fragments of a past ballet and score of "Seven Beauties", the San Diego Union-Tribune website reported earlier.
The tickets for the show are free but must be reserved in advance.
/AzerNews/