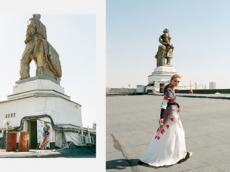 By AzerNews
Azerbaijan's Atelier Jan fashion brand attended a special project in Moscow dedicated to the third anniversary of the Buro 24/7 web project.
Eight designers representing eight former Soviet republics put on display the best clothing of their new collections in the All-Russia Exhibition Center's (VDNKh) pavilions.
Along with Azerbaijan, the project brought together fashion designers from Kazakhstan, Belarus, Ukraine, Russia, Armenia, Georgia and Uzbekistan.
"Based in sunny Baku, Azerbaijan's Atelier Jan brand specializes in creating dresses for any occasion - without exaggeration," the article on the buro24/7.ru website reads.
"Ulviya Rahmanova, the founder of the brand is also the publisher of the Azerbaijani version of Buro 24/7. Atelier Jan's richly embroidered wedding dresses are good and luxurious. Its evening dresses with their surprisingly modern traditional national motives are good as well. Though the designer says the dresses are for every day, no one dares calling them daily dresses. And last, and perhaps the most unexpected project was its collaboration with Murad Osmann - a series of the sweatshirts and T-shirts with prints. The income of their sales will go to charity."
In 2011, a few people united by one hobby and love of beauty founded Atelier Jan, the center of haute couture, sewing and selling exclusive clothes. Currently the company is developing a Ready to Wear line of clothing, and fashion accessories such as hats made of astrakhan, turbans made ??of semiprecious stones, scarves and so on. Their creations are currently available in the boutiques of the capital and in online stores.