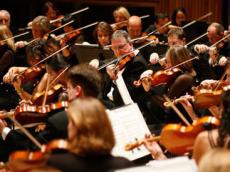 By AzerNews

Azerbaijan's Royal Philharmonic Orchestra under Professor Yalcin Adigezalov will perform in London's Central Hall Westminster on March 7.
Gala-concert is organized by the International Bank of Azerbaijan (IBA) and the "Buta" Art Center as part of Caspian Corridor Conference.
"As the largest bank of Azerbaijan, IBA seeks to promote the aesthetic values of the cultural heritage of Azerbaijani people," Chairman Jahangir Hajiyev said.
"By giving Azerbaijani artists the opportunity to perform on international stages, we contribute to the promotion of Azerbaijani culture abroad."
Works by prominent Azerbaijani composers like Gara Garayev, Fikrat Amirov, Niyazi and Nazim Aliverdibekov will be performed at the gala concert, featured by Azerbaijan's Honored Artist Yegana Akhundova, Natavan Guliyeva and Afag Abbasova.