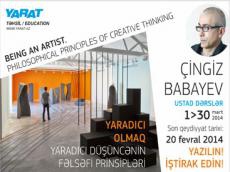 YARAT Contemporary Art Space is announcing a workshop by an artist, sculptor, philosopher and poet Chingiz Babayev.  
 - If you are an artist, musician, writer, poet, art critic, musicologist, actor, dancer, theatrical figure and you're wondering how and about what the contemporary artist thinks.   
- If you are in search of new ways to embody and visualize ideas  
- If you are attracted by the opportunity to share thoughts about structure and topicality of ideas in contemporary art   
Then this course will be great practice for you in the presentation of thoughts in the form of a concept. Any experiments, different formats and styles of presentation are welcome.  
At the end of the course the participants' ideas will be presented with possible subsequent publication of the most successful ideas in leading print media.
A week long internship  at the Center of Contemporary Art in Tbilisi will be granted to a student who demonstrates the most outstanding results during the course. This internship will include visits to some of the best museums and galleries in Tbilisi.
The workshop will be held from March 1 to March 31, 2014 – three times a week from 11:30 to 18:00. 
Seats are limited. Applications can be downloaded from the following link http://www.yarat.az/education/43/ (CV + completed entry form) are accepted at info@yarat.az until Feb. 20. The details can be found on our Facebook page and website www.yarat.az