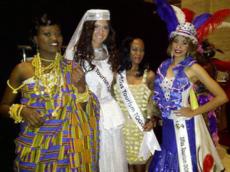 By AzerNews
Irada Balakhanova represented Azerbaijan at the beauty contest "Miss Tourism World 2013".
The first "Miss Tourism World" contest was held in Equatorial Guinea, in an amazing place called "The Unexplored Treasure of Africa."
The contest was organized by the World Tourism Organization (London, UK).
Contestants from all over the world arrived at Equatorial Guinea and spent two weeks sightseeing and getting acquainted with the rich culture of the country.
The final statge of the contest was held in Malabo on October 12 and the contestants competed in various categories. Balakhanova performed in dresses made by different designers.
A fashion show displaying Azerbaijani national dresses made by famous fashion designer Gulnara Khalilova was greeted with particular enthusiassim.
The winner of "Miss Tourism World 2013" was a girl from Venezuela.
Balakhanova is a model for Azerbaijan Fashion Association. She has repeatedly represented Azerbaijan at international beauty and modeling contests, such as the Beauty of the World 2007 (China), Miss Model of the World 2010 (Hong Kong-China), Miss Globe International (Cyprus, Turkey), and Miss Tourism Queen International (China).
Balakhanova has also been awarded the title of Beauty of Eastern Europe, and has received the prize for best evening dress from the fashion house of Gulnara Khalilova at the Qingdao fashion Week (China).
Miss Tourism is an international pageant which aims at endorsing beauty all over the world.The contestants gain entry to the Miss Tourism final by winning their national Miss Tourism contests, and every single entrant is proud to be an ambassador of their country`s tourism industry.
The main aim of the Miss Tourism beauty pageant is to promote tourism and the culture of the host country that the Tourism World Organization works with.