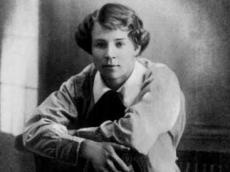 By AzerNews
A literary evening called "My Way", dedicated to the 118th birth anniversary of great Russian poet Sergei Yesenin, was held at the Russian Information and Cultural Center in Azerbaijan's capital Baku.
Honored Artist of Russia Yuri Golishev brilliantly presented the poetry, prose, articles and letters by and about Yesenin to the audience.
The commemorative event had been prepared by Rossotrudnichestvo ("Russian cooperation") in Azerbaijan and the Moscow Philharmonic.
"Sergei Yesenin and his creative legacy was, is, and undoubtedly will be a strong bond between the cultures of the Russian and Azerbaijani people. The Azerbaijani period of creativity in Sergei Yesenin's biography is rather one of the most exciting and important ones," the head of Rossotrudnichestvo in Azerbaijan Valentin Denisov said in his opening remarks.
Golishev skilfully presented a brilliantly thought-out program to the public.
Poems and excerpts from the works of the outstanding poet were recited, backed up by background information about the history of their creation. The audience took great interest in the story about the little known facts about the poet's life.
"I haven't been to Azerbaijan for 30 years. While on stage, I felt a strong connection to the audience which is only possible with a strong affection for poet Sergei Yesenin and his creative heritage on the part of everyone who was in the room," Golishev said.
Sergei Aleksandrovich Yesenin (1895-1925) is a famous lyrical poet of the Silver Age of Russian poetry. Through his collections of poignant poetry about love and the ordinary life, he became one of the most popular poets of the day.
His first book, Radunitsa ("Ritual for the Dead"), was published in 1916.
Yesenin welcomed the Revolution of 1917 as the social and spiritual transformation that would lead to the peasant millennium he envisioned in his next book, "Inoniya" (Otherland, 1918).
In 1920-21 he composed his long poetic drama Pugachyov, glorifying the 18th-century rebel who led a mass peasant revolt during the reign of Catherine II. In 1919 he signed the literary manifesto of the group of Russian poets called the Imaginists.
For some time he had been writing the consciously cynical, swaggering tavern poetry that appeared in "Ispoved khuligana" (Confessions of a Hooligan, 1921) and "Moskva kabatskaya" (Moscow of the Taverns, 1924).
His last major work, the confessional poem "Cherniy chelovek" ("The Black Man"), is a ruthless self-castigation for his failures.
A prolific writer, Yesenin had a true gift of song. His poignant short lyrics are full of striking imagery. He was very popular both during his lifetime and after his death.
Today Yesenin's poems are taught to Russian schoolchildren; many have been set to music and recorded as popular songs. In 2005 Russian studio Pro-Cinema Production produced a TV mini-series "Yesenin" about the life of the poet.