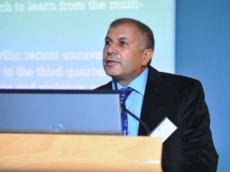 By AzerNews
Lectures about natural dyes in new Azerbaijani archaeological and ethnographic researches and dyeing used in Azerbaijani carpet weaving have been presented in France.
The 32nd international conference "Dyes in History and Archaeology", held in La Rochelle on October 2-5, aimed to familiarize the wider scientific community with new researches on the history, chemistry and organic pigments' characteristics of the natural and synthetic dyes.
Azerbaijan was represented by the Chairman of the Cultural and Heritage Study Support Public Union, Miras, PhD in History Fariz Khalili, fine art restorer Vugar Guliyev, photographer Mammad Rahimov and translator and researcher Shola Bayramova.
Azerbaijani culture and history were also presented at the event.
Speakers noted that a paint shop featuring pottery jars with dyes was found during archaeological excavations in the medieval city Agsu in 2010. These dyes, studied under the supervision of Professor Recep Karadag of the Marmara University in Turkey, turned out to be madder.
Moreover, Azerbaijani madder export in the 18th century was reflected in a number of official documents. A half of taxes paid by the medieval Agsu population came from natural dyes.
The Basgal village in Azerbaijan's Ismayilli region was specially named as a place where people historically were engaged in dyeing.
Reconstruction of a dyeing workshop and the creation of a little Silk Road museum have been carried out in Basgal as part of a natural dyeing development and profit yielding project launched on a public initiative.
Basgal masters are using smoketree plant to dye the local textile product kelaghai, which is traditional headwear of Azerbaijani women.
The conference in La Rochelle was attended by representatives of France, Britain, China, Japan, Italy, Spain, Portugal, the Netherlands, Turkey, Greece, Poland, Nigeria, the United States, Romania, and Israel.