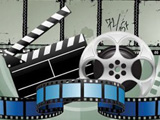 The Lighthouse (Mayak), a movie by Azerbaijani filmmaker Fariz Ahmadov, is participating in the international Artkino short film festival in Moscow, Russia.
The author of the script is Esmira Eyub, producer Fariz Ahmadov, cameraman Nizami Abbas, art director Ibrahim Aminov, composer Rauf Aliyev, film editor Rovshan Vasifoglu, creative producer Jamil Guliyev, producers Rashad Gasimov and Rasim Salmanov.
The film is based on the conflicts between a military man and his drug addict son. The film was made by results of the contest `Bu meydan, bu ekran 2011? held by the Azerbaijani Ministry of Culture and Tourism.
Artkino is a project of cultural and social significance, whose goal is to create and promote independent cinema in Russia and abroad.
Artkino Short Film Festival sees its mission in reviving independent cinema in Russia, inspiring discoveries in cinema language and driving attention to independent cinema by promoting short films created by cinema school students and non-professionals. Since 2008, 200 films are presented during the festival each year, among them are features, documentaries, experimental films, animation and 3D/stereomovies. Acclaimed jury includes most famous Russian film-makers (e.g. Pavel Lungin, Kannes Film Festival winner, cinematographer Alisher Khamidkhodzhaev, Venice Film Festival winner). Each year a legendary film-maker addresses to the participants and guests of the festival with the words of welcome: in 2008 it was writer Tonino Guerra (Italy), in 2009 – director Krzysztof Zanussi (Poland), in 2010 – director Claude Lelouch (France).
Nowadays Artkino films are being exhibited in more than 20 Russian cities and CIS countries and also during the weeks of Russian cinema in different European countries.
Publishing house releases a monthly newspaper dedicated to Russian independent cinema.
Artkino provides an opportunity for young directors not only to learn the secrets of world cinema and film production, but also to participate in the formation of the Russian auteur cinema.
/
AzerTAc
/