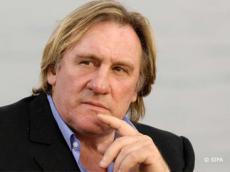 The world-famous French actor Gerard Depardieu visited Azerbaijan. The famous actor's visit to our country is connected with shooting of the film, the head of the Culture and Tourism Sector, Yusif Sheykhov said.
 The documentary film "Alexander Dumas in Azerbaijan" is being shot by the French film figures and Gerard Depardieu. Gerard Depardieu has got a role. The film will be shot in Baku and in other regions of Azerbaijan. The shooting process will be carried out according to the Alexander Dumas's route in Azerbaijan. French actor is also expected to hold some meetings in the frame of his visit.
The film crew finishes their visit on September 15. An actor and French crew are expected to meet with Abulfas Garayev, Minister of Culture and Tourism.
Film shooting took place in Baku Jazz Centre. The young jazzman of Azerbaijan, honorable artist Emil Afrasiyab also took part in the process. The French actor admired with his amazing performance and offered him to compose the music of the film.
APA
/