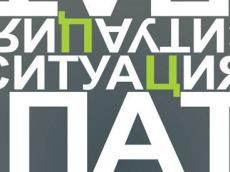 YARAT, the Contemporary Art Space, presented in Moscow the Situation PAT project at the MAP`C Modern Art Center as part of the parallel programme of the third Moscow International Biennale of Young Art.
The ceremony was opened by founder and director of the MAP`C Modern Art Center Natalya Kosolapova who spoke of the activity and projects of the Center including large-scale projects supported by the CIS Interstate Fund of Humanitarian Cooperation. According to her, exhibition of Azerbaijani artists is very important project for strengthening of friendly relations.
Azerbaijan`s ambassador to Russia Polad Bulbuloglu expressed satisfaction with the fact that young Azerbaijani artists are represented in one of the cultural centers of the world - the capital of Russia. He said this is a very important event which stresses the existence of a very strong art school in Azerbaijan, all genres of art are developing, and there are such artists as Sattar Bahlulzade, Mikail Abdullayev, Tair Salakhov, Togrul Narimanbayov, and other world famous masters. "But time goes on and new generations, new trends and directions in art appear". It is a great pleasure that the young association YARAT has held several successful exhibitions in Baku and it is encouraging that this creative union of young people lives its life, makes its way and exhibits", he said. YARAT executive director Farid Abdullayev on behalf of the curator of the structure Aida Mahmudova thanked the organizers for the opportunity to show young Azerbaijani art and spoke of the activity and projects of the association.
He said that within the incomplete year of its existence much has been done and YARAT supports not only the young but also professional artists. The exhibition will last until 12 August.
/
AzerTAc
/