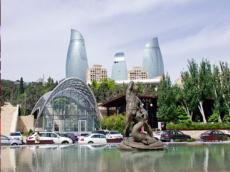 A presentation of a new club called "Books do not bite" under the Azerbaijan Student Youth Organizations` Union (ASYOU) and book by Japanese writer Yasanuri Kawabata "Thousand Cranes" was held here on Saturday.
Addressing the event, chairman of ASYOU Shahin Ismayilov touched upon the originality of the book. He also hailed the activity of the new club, which contributed to the development of relations between Azerbaijan and Japan.
Yusuke Fukuda, third secretary and cultural attaché of Japan Embassy in Azerbaijan also praised the club`s activity and wished every success to youth.
Yasunari Kawabata is a Japanese short story writer and novelist whose spare, lyrical, subtly-shaded prose works won him the Nobel Prize for Literature in 1968, the first Japanese author to receive the award. His works have enjoyed broad international appeal and are still widely read.
Born in Osaka, Japan, into a well-established doctor`s family, Yasunari was orphaned when he was four, after which he lived with his grandparents.
Thousand Cranes is a 1952 novel by Japanese author Yasunari Kawabata. The novel is divided into five episodes: "Thousand Cranes", "A Grove in the Evening Sun", "Figured Shino", "Her Mother`s Lipstick" and "Double Star".
/
AzerTAc
/