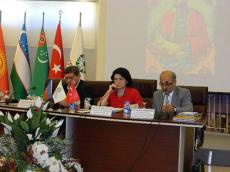 Days of Azerbaijani culture continue in Turkey. On the second day of the event, a conference dedicated to the 870th anniversary of a great Azerbaijani poet Nizami Ganjavi was held at the TURKSOY residence, Ankara.
The exhibition of paintings, carpets, national constumes, folk applied art was organized here.
The organizers of the event are Azerbaijani Ministry of Culture and Tourism, TURKSOY, as well as Azerbaijani embassy and Culture and Solidarity Society in Turkey.
Speaking at the event, Azerbaijani ambassador to Turkey Faig Bagirov said: "Days of Azerbaijani culture in Turkey and conduct of the scientific conference on the 870th anniversary of Nizami Ganjavi`s is a momentous event".
Speaking at the conference with a presentation on the theme "Influence of Nizami Ganjavi on the world poetry", chairman of standing committee on culture, corresponding member of ANAS, Professor Nizami Jafarov pointed out that "throughout the history many nations wanted to appropriate heritage of the great Azerbaijani poet and philosopher Nizami Ganjavi. However, the history adduces evidences that Nizami Ganjavi is an Azerbaijani poet. Ganjavi lived and died in Ganja city of Azerbaijan. Under the order of the nationwide president Heydar Aliyev, mausoleum of Nizami was built in this city, therefore, the memory of the poet was immortalized in all provinces of Azerbaijan, including Baku."
People`s artist, professor Firagiz Alizade has also spoke of Nizami Ganjavi`s influence on the musical art of Azerbaijan, stressing "as far back as in 16th century mugam masters performed ghazals by the 12th century great Azerbaijani poet Nizami. Eminent Azerbaijani composer Uzeyir Hajibeyli composed cantata "Nizami" and later romances of a ghazals "Sweethart" and "Without you". The founder of new genre of ghazal U. Hadjibeyli created the synthesis of declamation, turned into the language of music and melodies of cantilena type using the poetry and speech with a great mastery. Uzeyir Hajibeyli followers including famous Azerbaijani composers Fikrat Amirov, Gara Garayev also referred to the Nizami creation.
Nizami Ganjavi brought the highest humane ideals and new professional achievements into the literature of the Near East nations and opened a new direction in Eastern literature. Nizami always tried to connect the literature with the life, though taken images from the history, he treated them from his present day and being a great humane poet, he sang of a man, a man's dignity. The wise thoughts, taken from the people's creation and knowledge, along with people's wishes and dreams were skillfully expressed by Nizami in his works, which are perfect by meaning and form".
Then, opera singers of Turkey have performed romances "Without you" and "Sweetheart" by Nizami Ganjavi. Days of Azerbaijani culture will also be held in Izmir.
/
AzerTAc
/