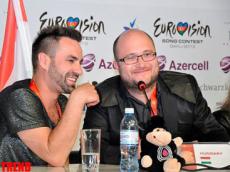 Eurovision-2012 song contest Hungarian participants - "Compact Disco" group will go to sleep and will not celebrate reaching the final, they said at a press conference after the first semi-final.
"We liked everything," they said. "Everything has been organized very well. We have achieved the first goal. We have reached the final. Our main goal is to win. We will not celebrate. We will go to sleep, because we are tired."
Hungary will perform in the final under No. 2 with 'Sound of our hearts' song in English.
/
Trend
/