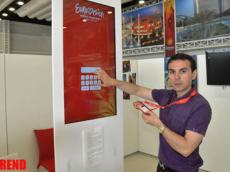 The press centre of Baku Crystal Hall has revealed the preliminary results of Eurovision-2012 semi-final voting.
"A new technology based on the kiosk touch voting is used for the first time in the history of Eurovision in Azerbaijan," coordinator of public programmes of Eurovision-2012 Fariz Gasimli told Trend on Wednesday.
Journalists, accredited fans, as well as delegations from different countries are participating in the voting planned by the Organising Committee of the Eurovision and the EBU.
Everyone can take part in interactive voting only once and vote for 10 representatives from each semi-final, who, in his or her opinion, will go to the final. The final results will be announced three hours before each of the semi-finals.
Currently Russia, Romania and Greece are leading in the first sub group and Ukraine, Sweden and Turkey in the second.



*****
09:27
Russian "Buranovskiye Babushki" are the leaders between the participants of the first semi-final according to the voting among fan-club`s members and journalists.
Russian representatives are on the first place with 62 votes for today. Romanian "Mandinga" band took second place with 59 votes. Irish pop duet Jedward are 3rd with 56 votes. The voting process will last till the closure of the Press Centre later in the day.
AzerTAc
/