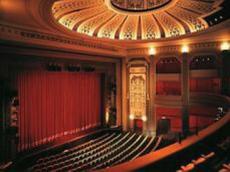 The Baku Municipal Theatre will represent Azerbaijan with "Ali and Nino" spectacle in the Russian Festival of Performing Arts in Moscow on Sunday. The Baku Municipal Theatre staged the play with support of Ministries of Culture and Tourism, Youth and Sport and International Bank of Azerbaijan in 2007.
Elvin Mirzayev, Nigar Hasanzade, Tofig Bayramov, Tural Baxish, Ilgar Musayev, Namig Javadov, Ramin Shikhaliyev, and others cast roles in the play based on Gurban Said`s "Ali and Nino" novel.
The Golden Mask is the National Theatre Award established in 1994 by the Theatre Union of Russia for productions in all genres of theatre art: drama, opera, ballet, modern dance, operetta, musical, and puppet theatre. The Golden Mask is also an all-Russian Theatre Festival that takes place in Moscow in the spring of each year presenting the most significant performances from all over Russia. The Golden Mask National Theatre Award and Festival is supported by the Ministry of Culture of the Russian Federation, the RF Theatre Union and the Moscow Government.
/
AzerTAc
/