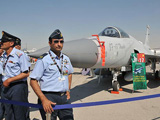 Azerbaijan shows interest in JF-17 Thunder combat aircraft jointly produced by Pakistan and China and announced its intention to purchase aircraft of this type, Pakistan Aeronautical Complex - PAC, which displayed its products in Dubai Airshow-2011 in UAE, said.
JF-17 Thunder showed exemplary flights over the Dubai airport within the air show. Members of the Azerbaijani delegation also watched the flights.
Reminding about the discussions held with Azerbaijan up to now, the company officials said that the discussions have not entered the phase of purchase and sale yet. Now the company is executing the orders of the Pakistan's Air Forces, the export to Azerbaijan can be realized in the nearest years. The sides determined the annual amount of the order.
JF-17 Thunder aircraft have the same or even superior indicators than MiG-29 aircraft of the Azerbaijani Armed Forces. The aircraft has a high maneuvering capability. By including this aircraft to the inventory Azerbaijani Armed Forces can increase its combativeness.
The company officials said that Pakistan and Azerbaijan has high level relations. Islamabad supports Baku's positions and territorial integrity of Azerbaijan and has rendered military assistance to Azerbaijan since the very beginning. Taking these relations into consideration, there will be no problems in sale of aircraft to Azerbaijan.
According to company's representatives, within Pakistan-China cooperation, the production of Block-2 version of JF-17 Thunder aircraft will be started. This model will be provided with the newest e-war system, additional weapons. Besides, two-pilot model of the aircraft is being developed.
Note that the length of Jf-17 Thunder is 14,97 m, maximum takeoff weight – 12474 kg, maximum speed – 1909 km/h, combat radius – 1352 km.
1 23 mm GSh-23-2 twin-barrel cannon, 4 air-to-air missiles, 1 air-to-surface missile, Mk-82, Mk-84 general purpose bombs, GBU-10, GBU-12, LT-2 laser-guided bombs, Matra Durandal anti-runway bomb, CBU-100/Mk-20 Rockeye anti-armor cluster bomb are included to the armament of JF-17 Thunder aircraft.
/
APA
/