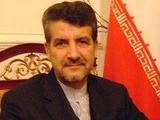 After construction of a new gas pipeline between Azerbaijan and Iran, the volume of the purchased Azerbaijani gas will rise to 10 billion cubic meters per year, Iranian ambassador to Azerbaijan Mohammad Bagher Bahram told Trend.
One of the key points of a special program to develop the gas sector in 2010-2013 in Azerbaijan is the building of a new pipeline Kalmaz-Astara with a length of 360 km. Specialists of the SOCAR (State Oil Company of Azerbaijan) has already begun to prepare a feasibility study on a new pipeline.
According to Bahrami, previously Iran and Azerbaijan signed a short-term contract for the purchase of gas. Work continues to sign a long-term gas contract.
"We want to buy 5 billion cubic meters of gas. In this direction, SOCAR implements the improvement of an existing pipeline," said Bahrami. In particular, currently work is underway to expand the gas compressor station in Astara.
According to the ambassador, the Iranian-Azerbaijani relations have entered a new phase. At this stage, both economic and political ties strengthen. From the point of view of development of economic ties, the focus is to strengthen relations in the oil and gas and energy fields.
Azerbaijan and Iran are connected with the Gazi-Magomed-Astara-Bind-Biand gas pipeline, 1,474.5-kilometers long. Its capacity was 10 billion cubic meters a year, but now it is lower. This route is a branch of the Gazakh-Astara-Iran pipeline commissioned in 1971. Three compressor stations - Gazi-Magomed, Aghdash and Gazakh were built.
In the first half of January, SOCAR (State Oil Company of Azerbaijan) and NIGEC (National Iranian Gas Export Company) signed in Baku a short-term contract for the supply of Azerbaijani gas to Iran. A long-term contract for the supply of Azerbaijani gas is assumed to be signed this Autumn. Iran mentioned the possibility of acquiring up to five billion cubic meters of Azerbaijani gas per year.
/Trend/