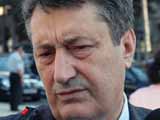 The Azerbaijani economy did not observe serious effects of the global financial crisis on unemployment rate, which was recorded in the U.S. and many European countries, Azerbaijani State Statistics Committee Chairman Arif Valiyev said today.
"If the number of unemployed in Azerbaijan was 525,000 people 10 years ago, today the figure is 260,000," Valiyev said.
He said under the methodology of the International Labour Organization (ILO), who work at least an hour a week, can not be classified as unemployed. The country's unemployment rate may be significantly lower by this method of calculation, as there are people who have to work several hours a week in the country's agricultural sector.
Based on the committee's data, as of April 1, the number of persons who acquired the status of unemployed in the country amounted to 40,800 people, of whom 43.7% are women. Five people account for each vacant position in Azerbaijan.
/
Trend
/