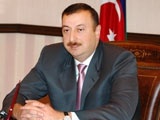 "The relations between Azerbaijan and Turkey are developing dynamically and I can say that today they are on the highest level", said President of Azerbaijan Ilham Aliyev at the meeting with media representatives, Day.Az reports with reference to AzerTac.
He noted that Turkish-Azerbaijani cooperation and interaction are strengthening in all sphere, including political, economic, cultural and bring positive results both for our countries, peoples and the entire region.
"We will strive for the further implementation of all projects, we launch, for our joint initiatives to be executed as soon as possible. We have many joint economic, transport and energy projects, which strengthen our countries and bring cooperation and stability to the region. The factor of Turkish-Azerbaijani cooperation plays an important role in ratification of stability, peace and tranquility in the region", noted the President.
The head of state noted that through the whole period of independence, Azerbaijan has expressed its intentions in relations with Turkey by the most sincere steps and always felt the support, brother relation and friendship from Turkey.
"Such grandeur projects, as BTC, Baku-Tbilisi-Erzirum and Baku-Tbilisi-Kars prove that owing to our will and persistence, even those projects, which no one believed in, are being successfully implemented by our initiative. I am sure that the Turkish-Azerbaijani relations and initiatives will further promote strengthening of peace and cooperation in the region", said Ilham Aliyev.
The President noted that the events in Georgia damage the economic interests of each country and added that definite damage was caused to the export potential of Azerbaijan.
"Our transport potential is restricted. As you know, volume of Azerbaijani export has dropped dramatically due to the blast on the bridge in Georgia", said the President.
As regards the Nagorno Karabakh conflict, the President noted that it can only be settled on the basis of international law.
The President stressed that the territorial integrity of Azerbaijan should be restored and it is not the subject of discussions.
"Our growing political and economic potential and strength certainly consolidate our positions in the region. The stronger are the positions of Turkey and Azerbaijan, the stronger the stability in the region will be", resumed Aliyev.
/Day.Az/