SOCAR opened a petrol station under SOCAR brand in Georgian Rustavi on April 25.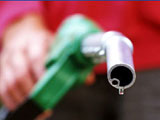 Day.Az reports with reference to the press service for SOCAR that the opening ceremony was attended by the representatives of Georgian government, business circles, deputies and diplomatic corps members.
SOCAR President Rovnag Abdullayev cut the red band and declared the opening of the first petrol complex of the company in Georgia. The ceremony continued in Sheraton Metekhi Palace hotel. Here R.Abdullayev informed the participants about the activity of the State Oil Company.
He said the petrol complex in Georgia is a successful example of SOCAR's implementation of international projects. A film about the activity of the State Oil Company was also demonstrated.
It sjpi;d be noted that the said complex belongs to daughter affiliate of the State Oil Company of Azerbaijan - SOCAR Energy Georgia. This complex is a result of a program, envisioning opening of a net of petrol stations in the territory of Georgia. On the whole, it is planned to launch 20 petrol stations under SOCAR brand in the country by the end of the year.
/Day.Az/