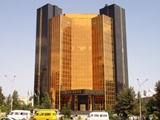 Fitch Ratings, in a special report, said Azerbaijani banking system is challenged with very rapid growth, fragmentation among private-sector banks, balance sheet concentrations and weak corporate governance practices.
Fitch, however, noted that asset quality has improved in recent years, reflecting the buoyant credit environment driven by high oil prices, and that growth has been from a low base, somewhat mitigating credit risks.
"The (banking) regulator has stimulated consolidation by raising minimum capital requirements, introduced reporting standards and promoted deposit insurance system. Nevertheless, the enforcement of regulations has not been strong, shareholder structures are often less than transparent and corporate governance is loosely supervised', Fitch said in the report.
The ratings agency said the system is concentrated at the top end with state-owned International Bank of Azerbaijan holding 39 percent of system assets. Privately-owned sector is, however, very fragmented, with no bank holding more than 10 percent of system assets, making it difficult for them to achieve economies of scale and diversify risks.
International Bank of Azerbaijan is rated "BB+" with a stable outlook.
Fitch also said profitability has been reasonable in recent years, but return on equity is not so strong when adjusted for inflation.
/Thomson Financial/