The second Jordan national exhibition will be held in Baku on May 6-9 under the steering support of the Jordan's Ministry of Industry and Trade, Azerbaijan's Ministry of Economic Development and AZPROMO.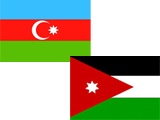 According to Day.Az, the exhibition will be attended by up to 40 companies from Jordan and 160 from Azerbaijan (including from Nakhchivan Autonomous Republic), representing different economic spheres. It is also planned to hold the Azerbaijan-Jordan business forum.
It should be reminded that the first Jordan national exhibition and business forum were held in November of 2007 in the framework of the visit of Jordan Prime Minister Maruf Al Baheit to Baku.
The sides signed memos of understanding between AZPROMO and Jordan Business Development Cooperation and between Trade and industrial chamber of Azerbaijan and Jordan Industrial and Commercial Chambers.
/Day.Az/