Lithuanian Prime Minister is expected to visit Baku on April 21.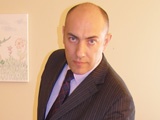 The due announcement was made by Lithuania Ambassador Extraordinary and Plenipotentiary to Azerbaijan Kestutis Kudzmanas.
He said the Prime Minister is to meet with Azerbaijani officials, in particular, with his Azerbaijani counterpart, Prime Minister Artur Rasizade, heads of the due ministries and departments-Ministers of Economic Development, Industry and Energy and Baku city administration.
"It is also planned to sign a number of agreements on bilateral cooperation between Lithuania and Azerbaijan in the sphere of mixed transportations and railway transport. The most important document is certainly an agreement on economic cooperation between Lithuania and Azerbaijan, covering spheres of energy, transport, economy and industry. The document will be signed by rime Minister.
This very agreement will, as we think, lay a foundation for creation of a joint Intergovernmental commission between Lithuania and Azerbaijan. Issues regarding appointment of co-chairs and composition of the commission and others will be settled in the future".
According to him, the delegation, which accompanies head of our government during his visit to Baku, will include along with the Prime Minister, deputy Minister of Transport, Deputy Minister of Economy (at that, a number of spheres, economic development, energy, issues of investments and export, are operated by the Lithuanian Ministry of Economy).
He said representatives of Foreign Ministry of Lithuania, general director of Kleiped oil terminal, Kleiped city major. Along with representatives of the state structures,Lithuanian entrepreneurs (about 20 people) will arrive in Baku.
"The delegation will include over 60 people.
It is planned to hold a business-forum with participation of representatives of the business-circles of Lithuania and Azerbaijan. We have already conducted two such business-forums in Lithuania in cooperation with AZPROMO.
I think during the coming Baku visit, it will be interesting for Azerbaijani businessmen to study Lithuania's experience in entering the world markets, attracting investments in the non-oil sector. Lithuania has a good experience in raising export potential of the country, in particular, regarding the non-oil sector. The annual volume of Lithuania's export to foreign countries nears $20,000,000,000.
We could have share our experience with Azerbaijan as to development of small and middle business as to the development of small and middle business. Luthiania has attained great achievements in this sense", said the ambassador.
/Day.Az/