The Baku-Supsa pipeline which transports Azerbaijani oil to the Black Sea shore of Georgia will resume oil pumping in May.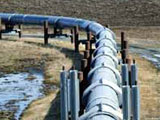 The due announcement was made by general manager of BP-Georgia Hew McDowell.
The oil transportation by the Baku-Supsa pipeline was stopped by BP in November of 2006 after abnormalities were revealed during the inspections on the pipeline.
"The operation of the pipeline will be restored after 100% security of the pipeline is guaranteed", said McDowell.
He noted that the volumes of oil transportation will grow in summer until the pipeline starts operating in full.
McDowell said large scale works during the suspension of the pipeline. In particular, threat of a landslide was revealed at a secion in the region of Zestafon city in Western Georgia. In this connection, it was decided to built a new section of the pipeline extending to 1 kilometers, which would allow to bypass the dangerous area.
Moreover, a section via the Kur river was laid anew in Azerbaijan.
On the whole, since the start of the Baku-Supsa operation in 1999 and until late 2005 it transported 295,000,000 barrels of oil. Through 10 months of 2006 Baku-Supsa pumped 5,600,000 tons of oil.
Baku -Supsa pipeline (530 mm diameter and extending to 837 kilometers (443 kilometers in Azerbaijan) was launched on April 17 of 1999 with the initial capacity of 117,000 barrels of oil daily. Then the pumping stations were modernized and the pipeline's capacity was brought to 145,000 barrels per day (over 7,000,000 tons per year).
/Novosti-Georgia/