The State Customs Committee liquidated Armenian-made foodstuffs and drinks, smuggled to Azerbaijan.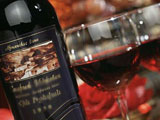 Among foodstuffs, liquidated in the presence of the members of the Committee and Commission for Liquidation, operating within the foreign economic association "Azerterminalcomplex", there were cognacs of Urime, Archankhach, Arsepel, Ararat and Aravan brands.
The State Customs Committee also liquidated nearly 19 kg of caviar, 580 500-grams of empty cans of caviar, 2,840 metallic covers used in alcohol drinks production, 10,000 glass covers, medicinal drugs, petards, various drinks and 86,000 empty sacks, confiscated in various periods.
Fikret Aleskerli, chief of department under the State Customs Committee of Azerbaijan noted that among the liquidated foods, 100 of 100-gram coffee packages made in Armenia and labeled "Gold Original Chocolate" are not suitable for consumption.
Experts consider that the quality indicators of these goods with an expired term also do not correspond to the adopted standards and are dangerous for human health, AzerTAc reports.
/Day.Az/