Today, the Director of Azerbaijan's State Agency for Standardization, Metrology and Patents, Ramiz Hasanov, met with Caspian Integration Business Club members.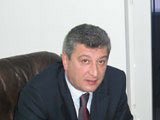 He said that the agency wants the private sector to be engaged in certification, APA reports.
"We certificate, accredit and control ourselves. We think the private sector should be engaged in certification activities," he added.
He ruled out any registration price, saying the Tariff Council, State Price Regulator, has already set fees.
He noted that the agency is working on the project to establish a Reference Standard Center in Baku.
"We have purchased 9 standards last year. We buy standards from the United States and Switzerland. We want to gradually apply recognized standards in Azerbaijan," he added.
Hasanov noted that they are negotiating on recognition of Azerbaijan's certificates in Germany and Korea.