Kazakhstan's government could join a proposed gas pipeline linking the energy-rich Caspian to Europe, bypassing Russia, if the project meets the country's economic interests, the premier said.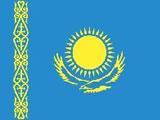 The $6-billion pipeline project is an extension of the South Caucasus pipeline, linking Azerbaijan, Georgia and Turkey, and is expected to run from Turkey to Austria via Bulgaria, Romania, and Hungary. The project would transport Central Asian gas to Europe and is seen by the European Union (EU) as a way of diversifying energy supplies away from Russia and reducing risks of disruption.
"Any transportation of energy resources must be to the benefit of the nation and in a direction that suits our country, and this is where the government will start from," Karim Masimov said, adding that there was no politics involved in the issue.
Kazakhstan is a traditional ally of Russia, one of the world's leading gas exporters, but the energy-rich Central Asian nation has been seeking to raise its own prestige as an energy supplier.
The 2,113-mile pipeline across the Caspian is scheduled to be built beginning from 2008 and go on stream in 2011. The pipeline with an estimated annual capacity of 30 billion cubic meters is seen as a rival to Russian Gazprom's Blue Stream-2, which will use Turkey as a transit point for exports to the EU and have a capacity of 8 billion cubic meters and a commissioning date of 2012.
Kazakhstan's Foreign Minister Marat Tazhin has said it was too early to negotiate the pipeline until the five littoral states - Iran, Kazakhstan, Russia, Turkmenistan and Azerbaijan - agree on the status of the Caspian Sea and its lucrative resources. Energy Minister Bakhtykozha Izmukhambetov said Kazakhstan would consider joining the pipeline only if it is economically beneficial and other Caspian nations agree to it.
"We will develop the Caspian fields together with Russia..., which are expected to yield large amounts of gas, and if Russia joins the project to build the pipeline across the Caspian, it could bring vast profits," the minister said.
EU Energy Commissioner Andris Piebalgs has also said the EU was prepared to support the project and accepted the possibility of Russia joining it too. Turkmenistan and Uzbekistan have also voiced their support for the project that would give them direct access to European markets, bypassing Russia. But Russian energy giant Gazprom [RTS: GAZP], which controls the pipelines pumping Central Asian gas to Europe, has said it has no interest in the project. RIA Novosti