47 tankers took on board 5.549 million tonnes of Azeri Light crude oil at the Ceyhan Port in Turkey during the first quarter of 2007.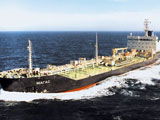 Alone in March 15 tankers carried 2.179 million tonnes of oil to the world market. A total of 13.219 million tonnes of crude oil have been exported aboard tankers since the first tanker lifting at Ceyhan last June.
The current export rate through Baku-Tbilisi-Ceyhan pipeline runs on schedule and the pipeline is in the throughput capacity of delivering one million barrels per day (approx. 50 million tonnes per year). At its peak the Ceyhan Terminal is able to fill 1-2 tankers per day.
While the pipeline initially carried only Azeri-Chirag-Guneshli oil, the first delivery of Shah Deniz condensate into the line was made in January this year and it is expected that future volumes will include those from across the Caspian, possibly commencing by the end of 2007. APA