Today, Azerbaijan's Parliament ratified the production sharing agreement (PSA) between State Oil Company of Azerbaijan SOCAR (75%) and Russian oil firm RussNeft (25%) to develop two oil fields of Azerbaijan - Hovsan and Zykh onshore oilfields in Azerbaijan.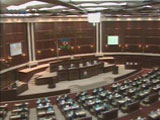 The RussNeft Absheron Investments JV will develop the fields as per the agreement, APA reports.

The lawmaker Valeh Asgarov underscored the importance of the project. Other MPs-Gudrat Hasanguliyev and Jamil Hasanli insisted that the parliemtn should adopt Oil law and develop its oil fields itself.
The Hovsan-Zykh fields are located in the south of the Absheron Peninsula, with recoverable reserves of 12 million metric tons (approx. 87 million barrels) of oil.
The agreement covers 65 square km of the field territory.
As per the terms of the production sharing agreement, RussNeft has also undertaken to solve the ecological problems.