Azerbaijan produced 712.52mln cu m of gas against the planned 710.74mln cu m with an excess of 0.3% in January, 2007.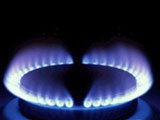 460.64mln cu m of gas (+0.9%) were produced by the SOCAR, 449.52mln (+1.3%) by Gas and Gas Units, 11.12mln cu m (-12.5%) by joint ventures and operating companies, the rest were extracted from Azeri-Guneshli-Chirag Field, 13.84mln cu m from Shah Deniz.
 
531.3mln cu m of gas were produced in the same period last year.

635.24mln cu m of gas were delivered to the national grid against the planned 638.90mln cu m (99.4%) in this period.
The delivery of gas was 461.09mln cu m in the same period last year, APA reports.